How To Reach Koh Phi Phi 
 

Top Rated Properties on Koh Phi Phi
Results are Based on Verified Guest Reviews
All of Our Posts on Koh Phi Phi, Thailand
If you're visiting the Thai island of Koh Phi Phi for a couple of days; going for an island tour is definitely one viable option that will allow you to soak up some time and have fun while at it.   Conveniently, island tours are easy to arrange once you are already on Koh Phi Phi Island. From the time you step onto the entrance pier to the island, you will immediately notice signs offering island tours scattered everywhere. And once you get to your hotel or guesthouse, the host or manager will most likely offer to arrange an island tour on your behalf.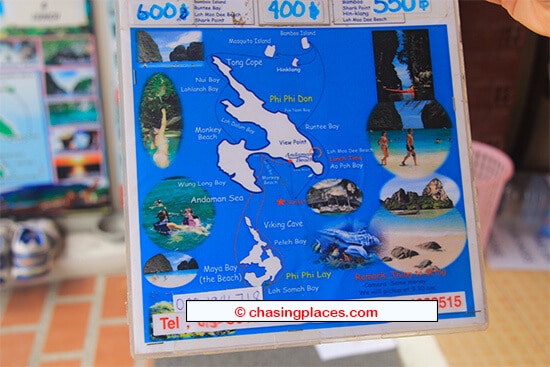 A typical tour map displayed on Koh Phi Phi
A Matter of Pricing
One thing you need to know about booking island tours on Koh Phi Phi is that prices can slightly vary, depending on who you are booking it with. If you are arranging it at your hotel, they will most likely quote a price that is slightly higher than the usual, as the extra cost is counted as their commission.  We are talking about a commission ranging from 20-40 Baht. So if you like the management and don't mind them getting commission off of you; then purchasing the ticket from them is no issue at all.