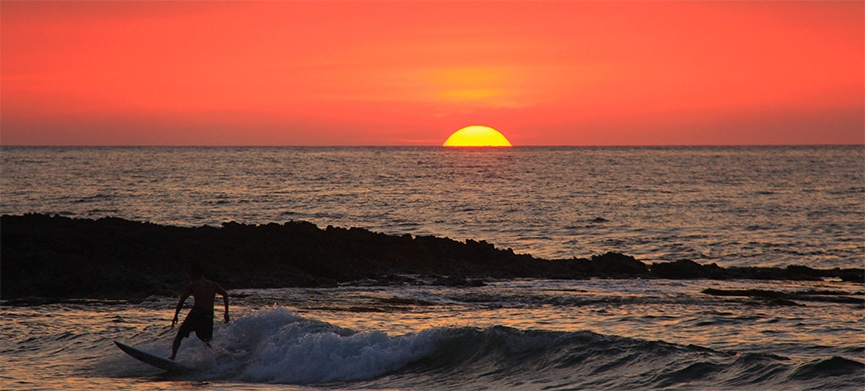 San Juan Beach is a laid back surfing haven situated about six hours north of Manila on the west coast of Luzon, Philippines. Due to the size of the waves, it is considered ideal for beginner surfers who are interested in learning the basics in a laid back environment at an affordable price. Don't be surprised if you see a fair share of experienced surfers here as well, especially ones that may not have had time to make it south to Siargao.  Even if surfing isn't your thing, the sunsets here are mesmerizing, so it's a worthwhile spot to consider for some relaxation and refuge from the haze in Manila.
Chasing Places Beach Breakdown = 6.00
1- Worst Imaginable 2- Terrible  3- Very Poor  4- Poor  5- Average  6- Good  7- Very Good  8- Great  9- Extraordinary  10-Unmatchable
Beachscape: 7
Unfortunately, San Juan Beach does not have any offshore islands or limestone karts to gaze out at, but what it does have is one of the most romantic sunsets you will find.  As you sit on San Juan Beach and look out at the ocean, to the south you will notice some rocky outcroppings sticking out of the water.  As the sun slowly disappears behind these rocks the sky will fill with purple and red colors.  Many tourists claim that the sunset at San Juan Beach is worth the trip in itself.
Water Transparency and Color: 6
San Juan Beach has nice clean and clear water.  Quite refreshing to be honest. The water is not murky and the visibility is good considering that it is not a white sand beach. If you stand on the beach and peer out at the water it has neither a green nor a turquoise coloration.  Instead, you can see the brown bottom floor, so it adopts the same coloring as the sand below. If you expect Caribbean water color, then you are sure to be disappointed.
Cleanliness: 6
San Juan Beach is relatively clean in comparison to other surfing beaches in Southeast Asia. You may happen to see the odd little food wrapper if you really try to look. Since the main strip of sand where most of the surfing takes place is quite short, beach maintenance is rather straightforward. If you have been to Kuta in Bali for instance, San Juan Beach in Luzon is much cleaner.
Sand Color and Texture: 5
The surf beach at San Juan is best described as being silver. The sand itself is quite fine and it is composed of some white, black and brown granules. When the sun is overhead during the afternoon hours the beach gets really hot and it appears light grey, but as the sun continues to set it looks progressively darker.  The sand that is touched by the ocean water looks very dark brown.
Travel Checklist: Do you have everything you need?
Additional Information about San Juan Beach, Luzon, Philippines
Accessibility
If you are not comfortable renting and driving a vehicle in the Philippines, then your next best way to access San Juan Beach is by bus. From Manila any north bound bus heading for Vigan or Laoag would be suitable. If you are coming from the north then most buses will pass by San Juan.  Simply let your driver know to drop you off at, "San Juan's Surf Beach."  If for some reason you can't seem to find it ask a local and make your way there with a tricycle driver or on a local jeepney. 
Accommodation Choices
San Juan Beach has a solid range of budget accommodation choices for tourists to choose from. During our visit, we just showed up and arranged our stay after dropping into a few beachside places. Expect to pay anywhere from 500 to 2000 pesos per night depending on your individual preferences and the time of year. The average price for a private room for two would be around 1000 pesos. If there is a surfing competition going on it may be a wise decision to book ahead of time.  Keep in mind that due to the development of this beach as a surfing destination there are now affordable accommodation choices off of the beach on the other side of the main road.
Nightlife
San Juan Beach is pretty chilled out.  Therefore, don't expect pounding music into the wee hours of the morning.  The beachfront establishments sell drinks and they tend to play some music so if you come with a group you should have a good time just relaxing and talking alongside the beach.  If you show up during the middle of the week in low season all by yourself, be sure to bring a book to pass the time.
Restaurant Choices
Most of the oceanfront resorts and guesthouses on San Juan Beach have their own restaurant that you can try out.  They offer western food in addition to local favorites such as pork adobo and stuffed squid.  A few of them even have free Wi-Fi as well.  Across the main road from the beach you will find a solid Greek restaurant that is definitely worth sampling.
Watersports
San Juan Beach is all about surfing and surfing lessons.  Swimming here is also excellent. If you really wanted to go fishing for example, one of the locals would probably be able to arrange something for you. During our visit, we never saw any other motorized water sports.
Recommended for: surfers, budget travelers, those seeking a relaxing weekend getaway
Best Beach Features: Beachscape (especially the sunset!) and the chilled out vibe.
If you have any questions about our experience staying on San Juan Beach please feel free to comment below or check out one of our related articles.