Dubai has a reputation of being an ultra-modern, sleek city which tempts the rich and the famous. When people think of this city, they expect huge malls and skyscrapers in the midst of a desert plain. But there is another face to Dubai that a lot of travelers don't know about. This face is an older one and honestly, maybe more interesting to many travelers who visit Dubai.
During my visit to Dubai, I had the opportunity to see its historical neighborhoods. I didn't know that such neighborhoods existed, and I considered myself lucky enough to read about them in a guide.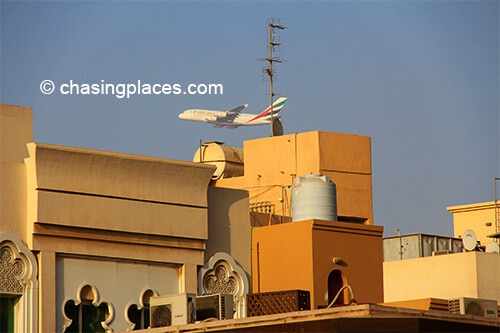 Deira
Deira is one of the oldest neighborhoods in Dubai, and it is known for its souqs (souks) (the word for market in Arabic). The Gold Souq (souk) in particular is quite a fascinating place. This marketplace is marked by a big sign on top of its wooden gate. As you enter the gate, a single lane awaits, and along this busy street, various gold shops are lined up. The golden jewelry on display in every shop is so impressive that it doesn't really matter if you're not up for buying. Just looking at the displays is an experience in itself. I have never seen such grand jewelry all in one place.
Deira is also home to the Heritage House, which used to be the residence of a wealthy merchant. This merchant also happens to be the founder of the adjacent Al Ahmadiya School, the very first public primary school in Dubai. Other nearby souqs (souks) to visit include the Grand Souq (Souk), the Spice Souq (Souk) and the Perfume Souq (Souk).
Bur Dubai
Bur Dubai is another historical neighborhood that you should not miss visiting while in Dubai.  This neighborhood is located in the western section of Dubai Creek. Most of the main attractions in Bur Dubai are concentrated along the west bank of the creek.  Some of these attractions include the Al Fahidi Historical District and the Shindagha Historic District.
Bur Dubai has its own souq (souk);  it quite extensive and very atmospheric. This area is a real reminder of what life was like before the oil boom in Dubai. If you are a fan of museums, then there is no better one to visit than nearby Dubai Museum.
The best way to enjoy Bur Dubai is to walk. Al Fahidi, Shindagha and the Bur Dubai Souq are all close to each other, so it's easy to just walk from one to another.  Trust me, these districts are incredibly charming and photogenic.  It really gives you a different perspective of Dubai. Shindagha, in particular, used to be where the homes of the rich and the elite in Dubai were in. Today, the district has been rebranded as a heritage district with handsome and stately looking homes. Walking there is like going around an outdoor museum. The colors of the buildings are especially more attractive during sunset.
Travel Checklist: Do you have everything you need?
Getting to Bur Dubai and Deira
Bur Dubai and Deira are located on opposing sides of Dubai Creek. The fastest way to get from one neighborhood to another is to take the Dubai Metro if you're near one of the stations. But this way is not really the most scenic. The most scenic way is to walk towards the port area along the edge of the creek, and get on one of the traditional boats called an "abra".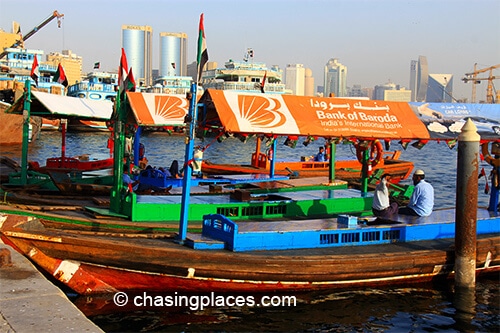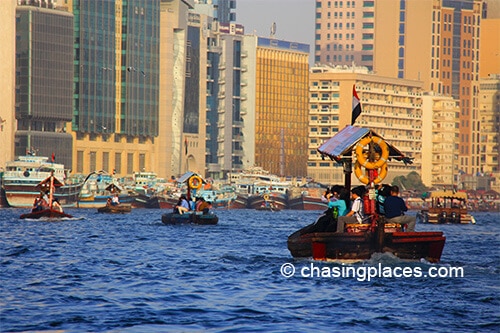 The boat trip only takes a little more than 5 minutes and it's very cheap, but I felt like this was the best travel deal ever as the ride highlights Dubai's historical landscape which is often overlooked. I guarantee that although the Deira skyline is not made of high rises, it is certainly beautiful and atmospheric.  The buildings exhibit old Arabian architecture, so much so that for a minute, I thought I wasn't in Dubai.
Fact: Nowadays, most of the people occupying the two neighborhoods (Bur Dubai and Deira) are not native residents. Instead, both Deira and Bur Dubai are occupied by migrants from all over, but more notably from South Asia.
A Travel Suggestion:
It is very much possible to visit Bur Dubai and Deira in one day. In our case, we took Dubai Metro to Deira and explored the different souqs (souks). Then we made our way to the Deira's port and rode an abra across Dubai Creek in the late afternoon to Bur Dubai.  The Creek during this time (just before sunset) looked stunning. Then we walked throughout Bur Dubai's historical districts and souqs, staying until after sunset.  We had to go back to the hotel to rest as we had an early flight to catch. But if you have time, you can have dinner at some of the great restaurants in the area. And there are quite a number of them; most of which are much, much cheaper than those situated in Dubai's downtown area.
So next time you are in Dubai, try to see the more cultural and historical parts of the city. By doing so, will really give you a more rounded Dubai travel experience and a different perspective about one of the fascinating destinations in the UAE.
Where Did We Stay in Dubai?
During our visit to Dubai, we stayed at two locations owned by the same hotel company – The Ibis.  Here is our full review of our stay at Ibis.  To save you time, we also compiled a list of top hotels in Dubai based on their costs and hotel reviews.
Top Rated Hotels in Dubai Based on Verified Guest Reviews
 Read More About Dubai