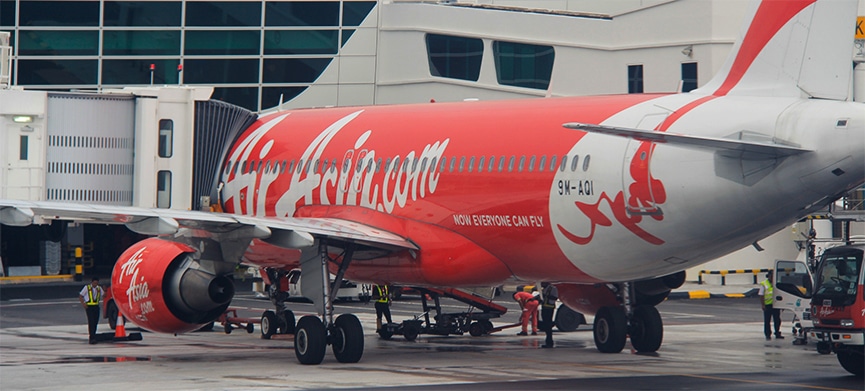 One of the biggest stories making headlines in the tourism industry within Southeast Asia is the recent opening of Kuala Lumpur's much anticipated budget airport terminal, KLIA2 (Kuala Lumpur International Airport 2). For year's budget travellers flying with the world's best low cost airline, Air Asia, have endured many crammed visits to LCCT (Low Cost Carrier Terminal).  Since May 9th, all budget airlines that were previously occupying gates at LCCT shifted their services over to KLIA2.  This transition, however, was not the smoothest.  Over the last couple of years many construction deadlines were pushed back due to a wide range of issues.
Over the last couple of years LCCT became almost a second home of mine as I travelled throughout different regions of Southeast Asia via the low cost terminal.  This, of course, made flying out of KLIA2 for the first time quite a memorable experience to say the least.  I wanted to share some of the observable differences I noticed between LCCT and KLIA2 during my recent flight to Indonesia:
Differences between LCCT and KLIA2:
10. KLIA2 is closer to Kuala Lumpur.
The low cost carrier terminal (LCCT) always took ten to fifteen minutes longer to reach than to KLIA.  Since KLIA2 is closer to KLIA expect to save at least 10 minutes of driving time in each direction when flying out of the new terminal.
9. KLIA2 is connected to the KLIA Ekspres Transit System.
Previously, passengers travelling to LCCT had the choice of taking a taxi, or express bus from KL Sentral.  Both choices, however would take considerable time – especially if you happened to get clogged up in one of Kuala Lumpur's notorious traffic jams. Now your trip can be jam-free with the KLIA Ekspres Transit System servicing KLIA2. What this means is that you can board a comfortable high speed train (with complimentary Wi-Fi) and reach KLIA2 in roughly 33 minutes from KL Sentral for 35 RM. Forget about the jams and 1.5 hour bus rides!
8. KLIA2 has more walking inside whereas LCCT had more walking outside.
If you flew out of LCCT a couple of times then you know exactly what I mean when I say the distance passengers had to walk outside to board their plane could be rather lengthy.  The LCCT departure area was quite compact. Be prepared though to walk much longer distances inside KLIA2 as it is much larger than LCCT with a connecting bridge that you may have to travel across.
7. KLIA2 has gangways, LCCT used temporary stairways to board flights.
LCCT was free of gangways but used temporary stairways to get passengers on board. KLIA2 however, has air conditioned gangways connecting planes to their respective departure gates.  This in turn makes it much more convenient and less taxing on the elderly to board.
6. KLIA2 has far more shops.
It's hard not to notice the broad array of shopping facilities at KLIA2 in comparison to LCCT. LCCT did have some nice little shops, but KLIA2 has substantially more in terms of selection. Before you check-in for your flight you will most likely travel though what looks to be a mall.  It even has a grocery store inside.  If you need some retail therapy before your trip, you may be in a better mood at KLIA2 opposed LCCT.
5. KLIA2 has at least one walkalator.
If you're lucky at KLIA2 you won't have to travel across the long bridge that connects the rest of the airport to a set of distant gates. I happened to board at one of the farthest gates from the immigration section. If you are worried about the distance to your gate, ask some airport personnel to escort you there.  Otherwise, feel free to try out the walkalator that has been installed on the bridge to make it easier for passengers to reach their gate in time.
4. The announcements at KLIA2 are not nearly as loud as they were at LCCT.
Sitting in LCCT for a couple of hours was sure hard on your hearing. Extremely loud and often incoherent announcements were continuously made to alert passengers of flight updates and boarding announcements.  It was like the sound just echoed off of the walls in the tiny gate area.  Not anymore. At KLIA2, the announcements appeared to be more in line with other non-budget airport terminals in the region. This should make it much easier for you to enjoy a book or a nap prior to your flight.
3. KLIA2 has a connecting bridge.
It would be almost impossible not to notice the large bridge at KLIA2. This has been built to connect distant gates to the main section of KLIA2.  It is air conditioned, so even though it may seem like quite the trek to your terminal it is still far superior to the sweaty walks passengers had to experience at LCCT.
2. LCCT had only 1 security check for international flights, KLIA2 implements 2.
One of the most noticeable changes between LCCT and KLIA2 is the level of security. International passengers departing from LCCT only had to complete one security check before boarding. When I flew out of KLIA2 on my international flight, I was screened twice before boarding.  One of the checks was carried out immediately after passing through immigration and the second check occurred after crossing the connecting bridge.
1. KLIA2 has the tallest airport control tower in the world.
KLIA2 is a world record holder, unlike LCCT. According to Guinness World RecordsTM, the 133.8 m (438 ft 11.71 in) tall airport control tower at KLIA2 is the tallest in the world. It's still up in the air as to how long this record will remain intact, but it's an interesting fact nonetheless.
Finding the cheapest rooms near KLIA/KLIA2
Whether you are planning on staying near KLIA, KLIA2 or right in the heart of Kuala Lumpur there are a few sites to check out in order to get the best selection and price: www.hotelscombined.com, www.agoda.com and www.booking.com. The leading accommodation site in Southeast Asia is www.agoda.com, so it's a good place to start your research.  At the time of writing they had almost 1200 different places to stay listed on their site in Kuala Lumpur! Booking.com is very popular with tourists that are planning well in advance because of their superb cancellation policies and customer service. We routinely use www.hotelscombined.com to book our rooms because it's a price comparison site which saves us serious cash during our travels in Malaysia.  Hopefully, one of these suggestions will work for you.
To save you time:
Top Rated Properties in Kuala Lumpur
Based on Verified Guest Reviews
Important: Mobile Users must swipe from left to right to see entire table.
 Criteria:
Properties rated based on 'overall' review scores from each respective website's verified guests.
Minimum of 50 verified guest reviews required to be considered eligible for comparison.
All star ratings and verified guest review scores are tallied at the time of writing, and therefore, are subject to change.